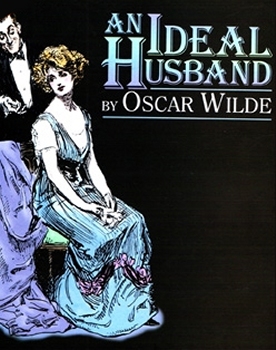 Marcus played the part of the young Viscount Goring in An Ideal Husband by Oscar Wilde in the National Tour 2000 with the Middle Ground Theatre Company.

The cast included: Richard Walsh, Dermot Walsh, Brian Cant, Marcus Gilbert, Jean Rogers, Louise English

Reviews:

* A triumph for director Michael Lunney, Worthing Evening Argus

* No such thing as perfection, but close! Shetland Times

* Under Michael Lunney's sharp direction, this production paints a vivid picture of an artificial, elevated and hilarious comedy of manners, it is a must see. The Sentinel

***** See also the entry in the Reviews section of this site under An Ideal Husband *****

Belgrade Theatre Coventry 23 to 28 August 2000

Middle Ground Theatre Company present An Ideal Husband by Oscar Wilde with an all star cast

The year is 1895 and politician Sir Robert Chiltern is finding that the early ambition for success that led him to sell a cabinet secret, is coming back to haunt him. Mrs Chevely threatens to expose him, not least in the eyes of his adoring wife, unless he supports a dubious commercial scheme through the House of Commons. Will Sir Robert allow himself to be blackmailed or will he risk the loss of all he holds dear?

The cast of this stylish production of Wilde's comedy of manners is headed by Richard Walsh (Sick Note in London's Burning) who plays Sir Richard, and he is joined by veteran actor Dermot Walsh (familiar to millions from his myriad of TV, theatre and film roles), Brian Cant (the voice of Camberwick Green and Trumpton), Louise English (Lucia in Brushstrokes) Jean Rogers (from Emmerdale) and Marcus Gilbert (from the TV adaptation of Jilly Cooper's Riders).

Source: Belgrade Theatre website 2000 

An Ideal Husband toured nationally including: The Hawth, Crawley; Belgrade Theatre, Coventry; Fairfield Hall, Croydon; The Orchard, Dartford; Key Theatre, Petersborough; Gordon Craig Theatre, Stevenage; and the Connaught Theatre, Worthing.